Shape Analysis delivered the scanning infrastructure for the National Sizing Survey (SizeUK).
SizeUK measured over 10,000 subjects and at 9 different locations over a 6 month period. Shape Analysis carried out the measurement analysis for SizeUK, which enables users of the data to draw useful conclusions from the data and focus on their target customers, producing better fitting clothes.
We offer a comprehensive Data Analysis Service. We have extensive experience in analysing survey data form SizeUK and other surveys. This analysis leads to a targeted size schedule for your target population, enabling better stock management and enhanced customer satisfaction..
Examples of Measurement Data Analysis:-
Measurement

Age Categories

Statistics
16-19
20-24
25-34
35-44
45-54
55-64
65+
Overall
Mean
143.769208
144.048119
144.306265
142.6678
141.960721
140.880982
137.73109
142.538637
Std. error of mean
0.27252082
0.24003223
0.21921368
0.23312982
0.25509223
0.24710978
0.3051768
0.10292005
Variance
32.826279
38.8904429
39.1164744
37.5555143
38.7829395
34.8060496
40.885343
38.92757
Std. Deviation
5.72942222
6.23622024
6.25431646
6.1282554
6.227595
5.89966521
6.3941648
6.23919626
Variation Coefficient
0.03985153
0.04329262
0.04334057
0.04295472
0.04386844
0.04187695
0.046425
0.04377197
rel. V.coefficient(%)
0.18955437
0.16663337
0.15190864
0.16340746
0.17969212
0.17540322
0.2215744
0.07220502
Skew
0.06874922
-0.01015265
0.05542145
0.1850367
0.22070479
0.12856377
0.1410694
0.09171544
Kurtosis
0.18511368
-0.09999978
0.17614655
0.24523981
0.10998007
0.27490542
-0.0213664
-0.01909117
Minimum
127.75
125.05
124.75
124.04
120.83
124.9
117.62
123.76
Maximum
163.74
163.93
164.13
164.81
161.32
163.19
154.1
163.93
Range
35.99
38.88
39.38
40.77
40.49
38.29
36.48
40.17
Sum
63545.99
97232.48
117465.3
98583.45
84608.59
80302.16
60463.95
523829.49
1st percentile
129.9973
129.6392
129.7115
129.4312
127.8094
127.2975
122.984
128.7028
5th percentile
133.959
133.774
134.0175
132.738
132.3705
130.999
127.81
132.226
10th percentile
136.843
136.006
136.51
134.892
134.606
133.55
130.03
134.766
25th percentile
140.1475
139.93
139.9975
138.36
137.5825
137.0225
133
138.21
Median
143.635
144.06
144.02
142.78
141.775
140.85
137.63
142.45
75th percentile
147.815
148.03
148.37
146.73
145.8775
144.6775
141.73
146.73
90th percentile
151.027
152.044
152.375
150.252
150.285
148.659
146.2
150.73
95th percentile
153.131
154.266
154.3575
152.924
153.1335
150.7035
149.1
152.95
99th percentile
158.0256
158.8068
159.6425
159.1244
157.7303
154.6819
153.134
157.7764
Geom. mean
143.65527
143.912984
144.170776
142.536742
141.824893
140.757817
137.58326
142.402166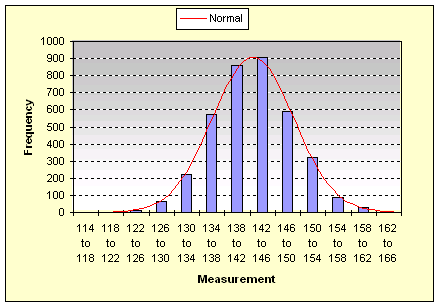 Frequency Distribution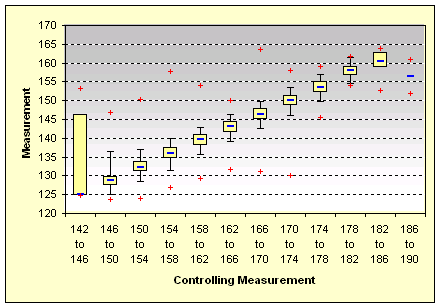 Box and Whisker Plot